Chris Dolley September 18th 2007
The Meddlesome Muse
One of the most common questions that authors are asked is: where do you get your ideas from? The usual answers range from 'everywhere' to 'anything that's not nailed down.' Occasionally the 'M' word is used. The Muse.
Now I'm a person who's lived and written quite happily for years without the aid of divine whispers. Muses are for the ancients and authors who need to explain to their partners why the Greek au pair keeps being discovered in their bedroom.
But now I'm not so sure – about the Muse that is, not the Greek au pair. A month or so ago someone wrote on my blog: I don't know why you bother writing fiction, your own life is far more interesting.
And that's when everything fell into place. I have a Muse. A meddlesome one who, tired of being ignored, decided to take action. And, being a Muse who believes fervently in the maxim 'write what you know,' decided that if I wasn't going to listen to her plot suggestions she'd make me live them. This was a 'show don't tell' variety of Muse.
So when I was stuck looking for a new book idea back in 1995, she arranged for my identity to be stolen, our life savings seized and our abandonment by the police forces of four countries who all insisted the crime was under someone else's jurisdiction. Thus making me solve the crime myself. And, knowing it was a book and not a short story that was required, she then complicated the investigation by giving me an eighty year-old sidekick and a large puppy – neither of whom could be persuaded to stay at home if there was a stakeout on the cards.
And that's just the simplified plot summary.
Luckily I gave in and wrote the book before it turned into a trilogy.
But this year, as again I'm looking around for a new book, I've just realised … it's happening again.
In January I was Googling on the web and discovered this - that my father was one of the nine men who recovered the Enigma machine from the German U-boat in 1941. He never told anyone. He was told it was a secret and so he took it to his grave.
And then last month I discovered something else. They used to carry out public executions in our garden. A fact conveyed to me on my doorstep by the chairman of the local heritage society. And I can tell you that when your command of the French language is not that hot and you open the door to someone who appears to be asking permission to bring round a group of people to view the public execution – you run for the dictionary. Swiftly. Who knows what kind of 'get tough' campaign the local parish council may have enacted.
Several dictionary consults later – and not to mention pleas to talk slower and keep the chopping motions of the hands to a minimum – I discover that the roof of our dolmen was used for public executions in pre-Napoleonic times. Our dolmen even has a name – Le Pierre Tomberesse – which I artistically translate as the Stone of the Fallen. Here's a picture of the dolmen.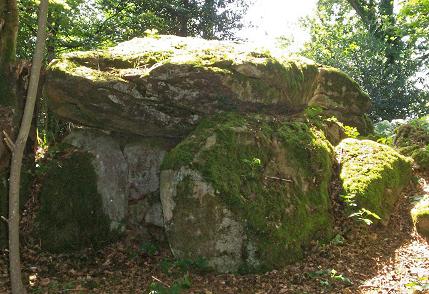 And here's the granite slab that sits on top.  The red-tinged head-shaped depression on the top left of the slab is reputed to be where the heads fell. And, if you look closely, you can make out a blackened spectral figure in the bottom right trying to put his head back on.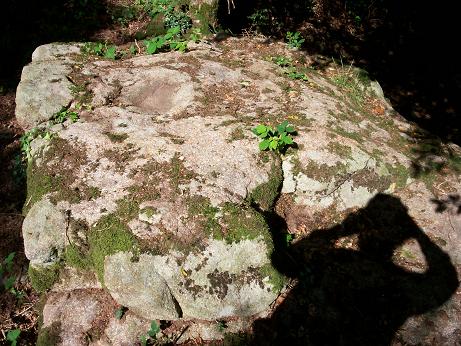 So, if I don't want any more of life's surprises, I'd better start writing that book.
Anyone else have a Muse? Anyone want mine?
Filed under featured posts, For Novelists, learning to write, writing process. You can also use to trackback.
Author Information
Chris Dolley
Chris Dolley is an English author of SF mysteries and fun urban fantasies, a pioneer computer games designer, and the man who convinced the UK media that Cornwall had risen up and declared independence. His novel Resonance (2005, Baen) was the first book to be plucked from Baen's electronic slush pile. He now lives in France with his wife, a dolmen, and a frightening collection of animals. His memoir French Fried (2010, BVC) has just been released. Visit site.
Topics
Archives
Browse our archives:
RECENT BOOKS